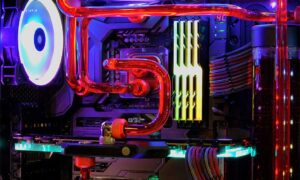 This is an interesting post from CDPR's Lead Scene Programmer Filip Pierściński as he issues a CPU cooling warning for PC systems ahead of the 2.0 and Phantom Liberty launches.
The dev team seems to be squeezing everything out of your CPU when the expansion launches, so be prepared for a heavy load. This could affect stability so they are recommending you check your system now. It's also worth noting that mods will not be required for Ryzen CPUs.
It's always encouraging to see developers trying to get the most out of modern hardware and hopefully enough of us have the kit to handle the changes without splashing out for upgrades. Chances are if you've been playing Cyberpunki 2077, you'll have a fairly decent PC.
CPU Cooling Warning
Before release CP2077 2.0 and PL please check conditions of your cooling systems in PC. We use all what you have, so workload on CPU 90% on 8 core is expected. To save your time please run Cinebench or similar and check stability of your systems 😉https://t.co/TWOAkP0ONu

— Filip Pierściński (@FilipPierciski) September 11, 2023