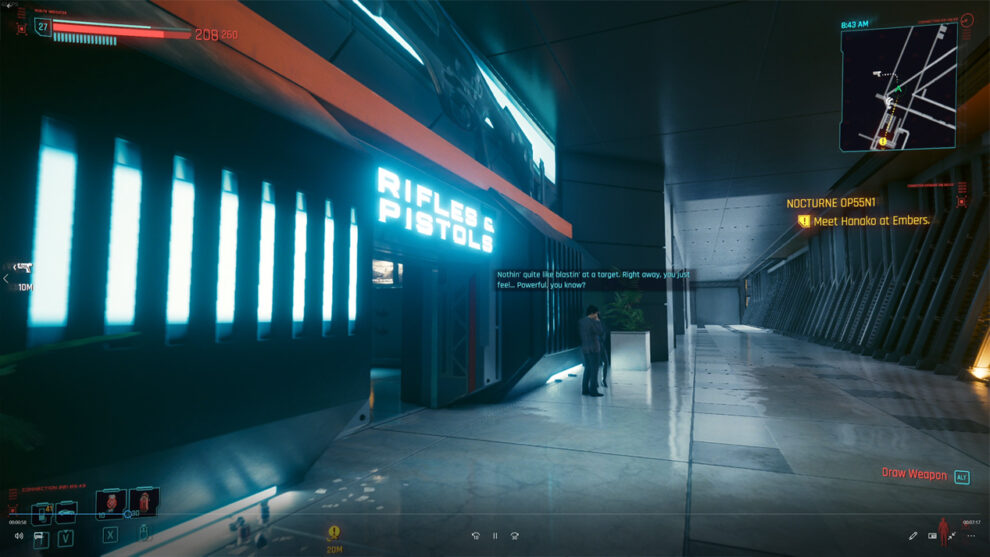 In the 1.6 Edgerunners update, a slew of new weapons were added to the game and they can be picked up from numerous vendors.
Below is a list of the vendors to head to for all the new weapons. Some of the weapons can all be found in one location so I suggest using the Kabuki Market vendor to make life easier. The same applies to melee weapons, just go to the gym in the Atrium by your apartment and speak to guy with the small knife above his head sitting down in the gym.
A couple of the new weapons can only be found during gigs which I have also added on the map locations below.
Patch 1.6 New Weapon Locations
| | | |
| --- | --- | --- |
| Kyubi Power Assault Rifle | City Center vendor and Kabuki Market vendor | View on map |
| MA 70 HB Light Machine Gun | Westbrook vendor and Kabuki Market vendor | View on map |
| Senkoh LX Submachine Gun | Found during the Nasty Hangover Gig (Santo Domingo – Hargreaves Fast Travel Point) | View on Map |
| Hypercritical Power Precision Rifle | Gig near Sutter Street Fast Travel  (Watson, head north of Sutter Street Fast Travel Point) | View on Map |
| Kappa Smart Pistol | Santo Domingo vendor and Kabuki Market vendor | View on map |
| VST 37 Pozar | Kabuki Market vendor | View on map |
| GUTS Power Shotgun (Iconic Weapon) | City Center (Hidden inside a bush) | View on map / Watch video |
| Punknife | Atrium  Gym knife vendor / Melee weapon vendor in Pacifica | View on map / View on Map |
| Razor Machette | Atrium  Gym knife vendor / Melee weapon vendor in Pacifica | View on map / View on Map |
| Claw Axe | Atrium  Gym knife vendor / Melee weapon vendor in Pacifica | View on map / View on Map |
| Neurotoxin Knife | Atrium  Gym knife vendor / Melee weapon vendor in Pacifica | View on map / View on Map |
| Cut-o-matic | Atrium  Gym knife vendor / Melee weapon vendor in Pacifica | View on map / View on Map |