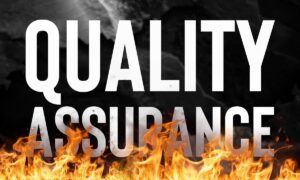 We all know how Cyberpunk 2077 turned out at launch. It was buggy to say the least. In fact, some of the bugs were game-breaking at launch.
Cyberpunk's launch will undoubtedly be one that's remembered for years, after all, it's not often a product is pulled from sale shortly after release by the likes of Sony or Microsoft.
In a report that's popped up on PCGamer, which was prompted by a video series called Exposing Quanatic Lab by Upper Echelon Gamers, they look at one company that could be partly to blame for the game's poor launch. Based in Romania, Quantic Lab was one of the QA teams involved in outsourced testing of the game and it sounds like they massively underperformed.
The report highlights the inexperience of the testing team at Quantic Lab, often sending CDPR minor reports to meet quotas instead of sending in the more serious issues found while testing. Here are a few of the choice quotes from the report.
"From a team of 30 people [initially assigned to Cyberpunk 2077], I think only 10 of them had experience on QA," a source who worked on Cyberpunk for Quantic told us. Of those 10, they said that "none of the 'experienced' testers had more than a year."

"I wouldn't blame Cyberpunk on [Quantic], CDPR still released the damn thing," one of the former Quantic employees who worked on the game told us, "but the fact that the game was in the state that it was, [Quantic] contributed." The same employee posited that a better-managed team in the same position could have bought CD Projekt valuable time on the project."
The report also mentions that often inexperienced testers were assigned to projects and the testing teams were generally understaffed.
While Quantic Lab is probably not fully responsible for all of Cyberpunk's issues, by not prioritizing bugs, it would have caused more work for the internal testing team. Ultimately bugs then slip through the net and you have a game launched with more bugs than it probably should have.
You can read the full report over at PCGamer.