Last Updated on September 4, 2022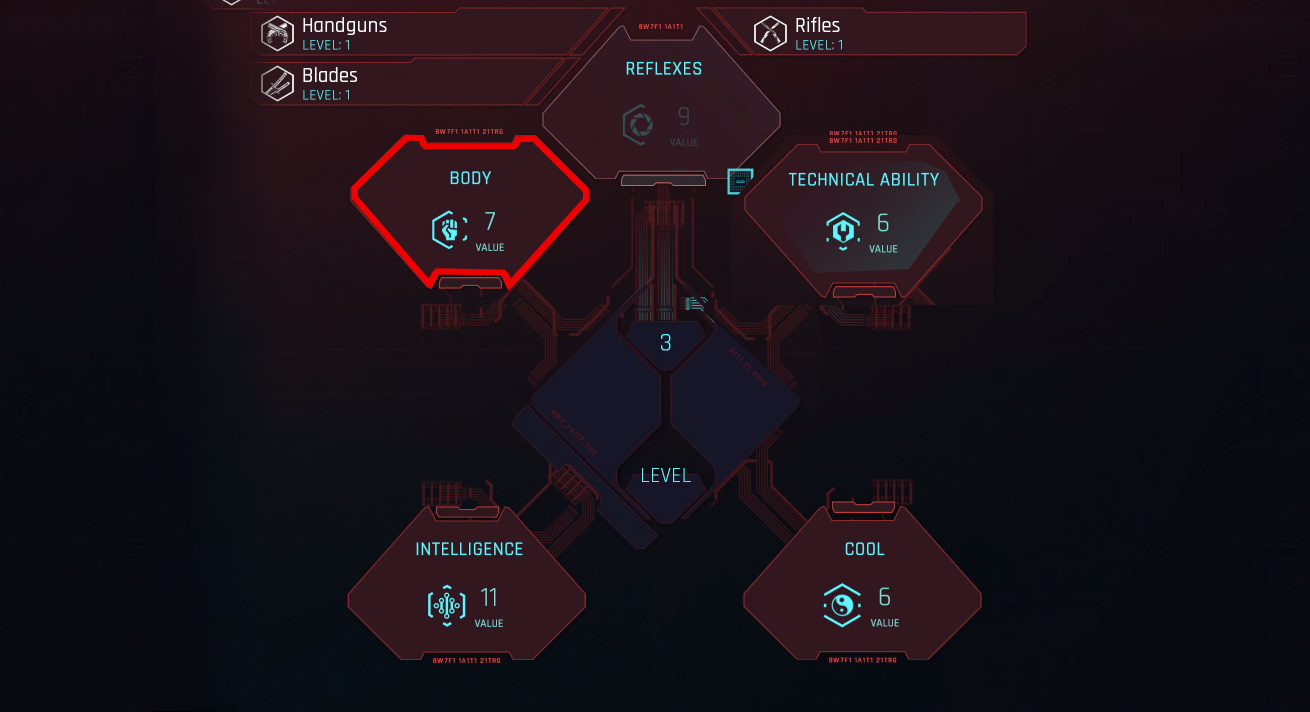 Players can augment their character by utilising perks in the five ability trees. This page details all the Body Perks available to players.
Cyberpunk 2077 Body Perks Description – Patch 1.5
Body Perks tackle physical capabilities such as max health, accuracy, melee damage, reduces bullet spread, and max stamina. Utilise these body perks to improve your Cyberpunk 2077 skills in hard-hitting melee action.
Annihilation Perks
| Req Lvl | Perk Name | Perk Description | Perk Lvls |
| --- | --- | --- | --- |
| 3 | Hail of Bullets | Shotguns and light machine guns deal 3% more damage | 3 |
| 5 | Pump it Louder | Reduces recoil of shotguns and light machine guns by 10% | 2 |
| 5 | In your face | Reduces reload time of Shotguns and Light Machine Guns by 15%/30%. | 2 |
| 7 | Bloodrush | Increases movement speed in combat by 5% while carrying a shotgun or light machine gun | 2 |
| 7 | Dead center | Increases Damage to torsos by 10% | 2 |
| 9 | Mongoose | Increases Mitigation Chance by 25% while reloading Shotguns and Light Machine Guns. By default, Mitigation grants a chance to reduce any damage taken by 50%. | 1 |
| 9 | Bulldozer | Increases Crit Chance with Shotguns and Light Machine Guns by 5%. | 1 |
| 11 | Momentum shift | Defeating an enemy increases movement speed by 10% for 10 sec | 3 |
| 11 | Massacre | Increases Crit Damage with Shotguns and Light Machine Guns by 10%/20%/30%. | 3 |
| 12 | Heavy lead | Shotguns and light machine guns knock back enemies with more force | 1 |
| 12 | Skeet shooter | Deal 15% more damage to moving targets | 1 |
| 14 | Manic | When entering combat, your movement speed increases by 20% for 10 sec | 1 |
| 14 | Unstoppable | Dismembering an enemy using a Shotgun or Light Machine Gun increases fire rate by 10% for 8 sec. Stacks up to 3 times. | 1 |
| 16 | Speed Demon | You deal more damage the faster you are moving | 1 |
| 16 | Burn Baby Burn | Doubles the duration of Burn | 1 |
| 16 | Hit the Deck | Increases damage to staggered and knocked-down enemies by 10% | 2 |
| 18 | Poppin' Off | Shotguns have a 25% highter chance of dismembering enemies | |
| 20 | Biathlete | Weapon spread does not increase while moving | 1 |
| 20 | Bloodbath | Dismembering enemies reduces weapon recoil by 30% for 6 sec. +1% per Perk level. | ? |
Athletics Perks
| Req Lvl | Perk Name | Perk Description | Perk Lvls |
| --- | --- | --- | --- |
| 3 | Regeneration | Health slowly regenerates during combat | 1 |
| 3 | Pack Mule | Increase carry capacity by 60 | 1 |
| 5 | True Grit | Increases max Stamina by 10% | 3 |
| 5 | Soft on Your Feet | Reduces fall damage by 5%/10%/20% | 3 |
| 7 | Wolverine | Health regens activates 20%/40%/60% faster during combat. | 3 |
| 7 | Epimorphosis | Increases Health regen threshold from 60%/65%/70% to 65%/70%/75% in combat and to 100% out of combat. | 3 |
| 9 | Steel and Chrome | Increases Melee damage by 10% | 2 |
| 9 | Gladiator | Reduces the amount of stamina consumed when blocking melee attacks by 20% | 2 |
| 11 | Divided Attention | Allows you to reload weaponss while sprinting, sliding and vaulting | 1 |
| 11 | Like a butterfly | Dodging does not drain Stamina | 1 |
| 11 | Multitasker | Allows you to shoot while sprinting, sliding and vaulting | 1 |
| 12 | Tenacious V | Getting hit does not interrupt Health regeneration. | 1 |
| 12 | Transporter | Allows you to shoot and sprint while carrying a body | 1 |
| 12 | Invincible | Increases max Health by 15%. | 1 |
| 14 | Human shield | Increases Mitigation Chance by 25% and Mitigation Strength by 20% while carrying a body. By default, Mitigation grants a chance to reduce any damage taken by 50%. | 1 |
| 14 | Marathoner | Sprinting does not drain stamina | 1 |
| 16 | Dog of War | Increases Health regen in combat by 30%/60%. | 2 |
| 16 | Cardio cure | Health regenerates 15%/25% faster as you move. | 2 |
| 18 | Steel Shell | Increases Armor by 10% | 1 |
| 20 | The Rock | Enemies cannot knock you down | 1 |
| 20 | Indestructible | Reduce all incoming damage by 10% | 1 |
| 20 | Hard Motherfucker | When entering combat Armor and Resistances increase by 10% for 10 sec. +1% per perk level. | 1 |
Street Brawler
| Req Lvl | Perk Name | Perk Description | Perk Lvls |
| --- | --- | --- | --- |
| 3 | Crushing Blows | Increased damage from strong attacks with Blunt Weapons by 10%/20%/30%. | 3 |
| 3 | Flurry | Increases Damage from combo attacks with blunt weapons by 30% | 3 |
| 4 | Juggernaut | Increases Armor by 15% while blocking with a blunt weapon | 2 |
| 4 | Dazed | All attacks with Blunt weapons have a 15% chance to apply stun | 2 |
| 6 | Efficient Blows | Reduces the stamina cost of all attacks with Blunt weapons by 25% | 2 |
| 6 | Rush | Successful attacks with blunt weapons regenerate 3% health over 2 sec | 2 |
| 8 | Human Fortress | Reduces the stamina cost of blocking attacks by 50% while using a blunt weapon | 1 |
| 8 | Opportune Strike | Increases Damage with Blunt weapons against eenemies affected by stun by 50% | 1 |
| 10 | Payback | Increases Damage with blunt weapons by 1 % for every 1% of missing health | 3 |
| 10 | Reinvigorate | Defeating an enemy by performing a strong attack with a blunt weapon restores 10% Stamina | 3 |
| 12 | Breathing Pace | Increases Stamina regen while blocking with blunt weapons by 50% | 2 |
| 12 | Relentless | Successful attacks with blunt weapons against enemies affected by stun restore 20% Stamina | 2 |
| 15 | Thrash | Strong Attacks with Blunt Weapons reduce the target's Armor by 20%/40% for 7 sec. | 1 |
| 15 | Frenzy | Defeating an enemy increases damage with Blunt Weapons by 30%/50% for 5 sec. | 1 |
| 18 | Biding Time | Blocking Attacks with a blunt weapon restores 5% health | 3 |
| 18 | Unshakable | Successful attacks with blunt weapons against enemies affected by stun restore 5% health and 5% Stamina | 3 |
| 20 | Guerrilla | Increases Crit Damage by 60% for 10 sec after entering combat | ? |